Derrick Vaughn - The Legacy Continues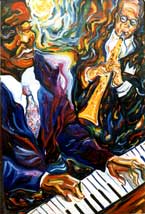 Derrick Vaughn is a young, entrepreneurial artist who has had is work recognized throughout the country. After graduation from Washington's Duke Ellington School of the Arts he attended Virginia Commonwealth University in Richmond, Virginia, and received his BFA degree in 1992.
Derrick began working as a museum curator for 8 Rock Gallery in the southeast Washington, D.C. area. He instructs art for the DC Public Schools. His freelance work has been praised and well received, with commissions for several murals and posters for clients like the Washington Capital Jazz Fest and the R&B Starfest 97.
Of his work, Vaughn says: "As an artist, I feel that no matter how far technology advances it is important to work abstract. Computers can not reproduce textures with soul or the feelings in which an artist conveys paint to canvas."
Click on the picture at left to see a larger version, and use the arrow buttons below to go to the next picture.
"Legacy" front
---
biographies | harlem renaissance books | links | timeline
black renaissance home | dclibrary.org home
The Black Renaissance in Washington, D.C., 1920-1930s
http://www.dclibrary.org/blkren/ | last updated June 20, 2003